Funding for the Lake Mary Road Bike Path fell through a day after Mammoth's town staff announced $3 million had been received through federal stimulus funds.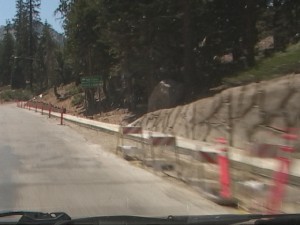 Mayor Neil McCarroll said,"When the fine print of the stimulus grant was read it stated that in order to use the money we would have to re-bid the project, not just add on to what we have already started. We want to be able to just punch through to Horseshoe with the same contractor we have been working with." That contractor is Spiess Construction.
McCarroll claimed there were two potential options that were being reviewed. The first would be to break the grant into two grants with the first being a $500,000 challenge grant. This amount would complete the path up to the Twin Lakes Store this year. Then the Town would re-bid the rest of the project next summer in order to use the rest of the grant.
The other plan is to go to the California Transportation Commission and request that $2.5 million that had been set aside for the new access road to the airport be reallocated to the Lake Mary Road Bike Path project.
Mayor Pro Tem John Eastman, Town Manager Rob Clark, Mono County Supervisor Vikki Magee-Bauer, and Town of Mammoth Lakes Senior Associate Civil Engineer Peter Bernasconi traveled to Sacramento on Thursday, Aug. 13, to go before the Commission and plead their case.
Eastman stated on Friday that the Commission's staff had initially denied the request earlier in the day on Thursday. The Mammoth travelers, however, unaware of this went before the Commission anyway. By the end of the discussion, the Commission had directed their staff to work with Town of Mammoth Lakes staff to get the situation figured out.
"Basically it seemed like the Commission did not want to override their staff in public," Eastman stated.
The subject will be back on the CTC's agenda in September. While happy that the transfer of funds was going to be researched further, Eastman was not confident that the Town would be able to pave the path past Juniper Ridge Road this year since the building season will be short.
The topic is on the agenda as a policy item for the August 19 Town Council