One of themost improbable and now greatestvictories in the history of Mammoth High School football took place Saturday.
Mammoth, after not fielding a varsity team in 2009, opened the 2010 season with a 6-3 non-league triumph over visiting Los Angeles Baptist (North Hills) at Gault-McClure Stadium.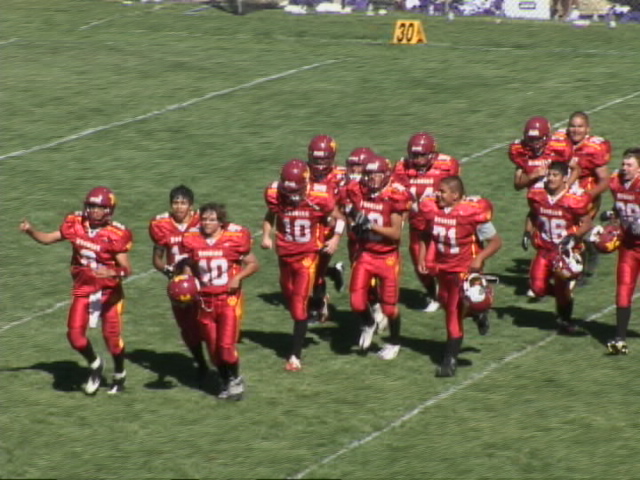 Tom Gault, returning to the side for his 26th season after retiring following the 2008 season, said Monday the Huskie coaches and players were still in a "daze."
"It's a huge win on a lot of different levels," Gault said. "Obviously, a win is a win, and I'll take an ugly win over a pretty loss any day of the week … but considering where we were four weeks ago, when we didn't even know if we were going to have the numbers, brand new superintendent, brand new prinicipal, the kids were just hoping against hope that the game against LA Baptist was even going to happen, and we go from whether we were going to play the game at all to winning, it's great."
Some longtime Mammoth supporters were comparing it to the first win school history, in the third season in 1976 against Desert.
Mammoth and LA Baptist were scoreless through three quarters before a 42-yard field goal by Devin Helliwell gave the Knightsa 3-0 lead early in the fourth quarter.
But the Huskies came back with an impressive drive, going 59 yards for the go-ahead score, an 8-yard bootleg by sophomore quarterback Tyler Wormhoudt.
The drive was kept alive with a clutch 4th-down conversion by running back Jorge "Coco" Galvan, who finished with 107 yards rushing.
LAB's final drive was stopped on a 4th-down interception by Wormhoudt.
Brennen Peters added 36 yards rushing on 15 carries and Oscar Hernandez had 31 yards on 8 carries. The Huskies completed just one pass, for three yards to Bradley Rowan.
But the Mammoth defense was stout, led by Hernandez with seven tackles and Galvan with six, while Eli Martin, Tyler Wallasch and Rowan all had five and Robbie Escallier, Elijiah Clancy and Dylan Bertolinia all had four.
All in all, it was a great win for a program that missed a varsity season and suited up less than 20 players.
"We weren't sure we were going to be able to go out and line up correctly and take a snap," Gault said with a chuckle. "But we did what we were supposed to do. Not that we played that well. We made a lot of mistakes. But we played better than I thought we were going to play.
"It took us about a quarter to figure out we could play with them, and then having a shot to win it at the end, how nice is that."
The Huskies will host Mission Prep of San Luis Obispo at Gault-McClure Friday. Mission Prep defeated Coast Union 39-0 in its opener.
That's a big win. But probably not as big as the Huskies scored.
The Mammoth JV won 14-0.
***
The Big Pine 8-man football team rolled to a 51-6 victory over visiting Hillcrest Chrsitian (Granada Hills) in both teams' season-opener Saturday.
Tyler Amisone led the potent Big Pine offense with 164 yards rushing on 10 carries, including five touchdowns.
Nick Santiago had 127 yards rushing and two TDs on just eight carries, while Suma Davis rushed for 52 yards on nine carries.
The teams exchanged touchdowns to start the game, but the Warriors dominated the rest of the first half and led 44-6 at intermission. A touchdown in the third quarter gave Big Pine the 45-point mercy rule win.
Mark Tillemans, in his sixth season as head coach, said the Warriors have a solid core with four seniors and four juniors, but had just 10 players suited up.
"I was a little surprised since we haven't had a lot of live action," Tillemans said. "But we executed really well. We don't have a lot of numbers, but the guys have been in the system, it's in their DNA. We've got a nice eight out there."
Isiah Bacoch was 3-5 passing for 63 yards, and also kicked a 27-yard field goal and was 4-of-6 in PATs.
Davis led the defense with 11 tackles and Colton Carrington had seven. Ronnie Dena had six tackles with three sacks, while Santiago, Amisone and Ryan Carrington all had five. Jessie Chirrick had three tackles and a forced fumble.
The Warriors will play at Lancaster Baptist on Saturday.