Youve heard the story before. Big rig on Sherwin Grade. Hot Brakes. Trouble. A version of that left a semi-truck on fire and smoking near Highway 6 and Wye Rd. in Bishop Monday afternoon.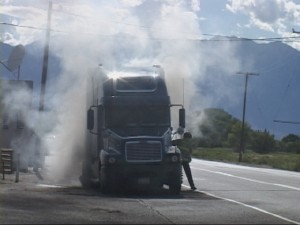 According to the Bishop Fire Department, the truck driver knew his brakes were hot on the grade. He stopped to cool them down. Then, as he entered Bishop, the driver saw that one of his tires blew up and caught fire.
He pulled up behind the Shell Station and apparently called 911. Law enforcement and Bishop Fire rushed to the scene where smoke was billowing out form behind the cab.
Firemen said the blaze did quite a bit of damage. They put the hoses on the fire and fairly quickly put it out. Firemen used their imaging camera that generates an infrared image to show hot spots. They saw the fire was out.
The driver was not hurt. He was hauling a big load of garden hoses.