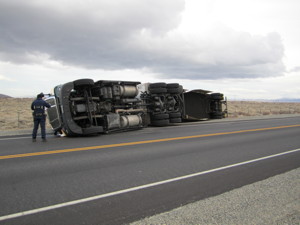 (CHP press release) On Saturday, February 15, 2014, at approximately 3:43 PM, California Highway Patrol (CHP) Bishop Communications Center received a report of a tractor-trailer combination ("big rig") that had rolled over, approximately a quarter mile north of State Route 167 (north of Lee Vining).
At this time Caltrans Changeable Message Signs (CMS) were advising US Highway 395 was not recommend for high-profile vehicles. A CHP officer from the Bridgeport Area responded to the collision location and initiated an investigation into the cause of the incident. The driver of the vehicle, Mr. John Miller, age 50, of Pierce, Colorado, and his passenger, Ms. Tiffany Mosley, age 30, of Farmington, New Mexico, were at the scene. Ms. Mosley was complaining of pain to her head, neck, lower back and sustained minor cuts to her arms. Due to the dangerous winds, a deputy from the Mono County Sheriff's Department transported both Mr. Pierce and Ms. Mosley to the Lee Vining Fire Department, where they were evaluated by medical personnel. Ms. Mosley was then transported to Mammoth Hospital by Mono County Paramedics.
Mr. Pierce later stated that he was driving northbound on US 395 at approximately 10-20 MPH when a gust of wind, later determined a wind gust of 85 MPH (according to automated CalTrans wind velocity sensors in the area), toppled his truck and trailer. At 4:30 P.M CHP closed this portion of US Hwy 395 for all vehicular traffic. From 4:30 PM to 8:08 PM, five CHP officers and one lieutenant manned highway closure locations north of Lee Vining and south of Bridgeport. CHP personnel escorted vehicles through the area in groups of between 40 and 100 at speeds appropriate for the windy conditions. Escorted traffic caused delays of up to one hour for some motorists.
During this time high-profile vehicles ("big-rigs" and recreations vehicles) and vehicles pulling trailers were prohibited from traveling on US Highway 395 north of Bishop and south of the California/Nevada state line.