The Big Pine Fire Department posted on its Facebook Page that it responded to a overturned big rig on Tuesday, October 19th, reportedly ten miles outside of Big Pine up Hwy 168. There should be more information coming from the California Highway Patrol, which, when received, Sierra Wave will use to update this report.
Upon arrival, the accident proved to be only 6 miles out from Big Pine and the big rig was found to be carrying a load of drywall headed to Bishop.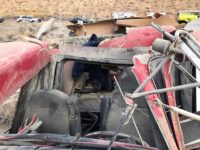 Both driver and passenger were ejected from the semi and were transported by Big Pine Sierra 35 and Sierra 251 out of Bishop to NIH, reportedly, almost miraculously, only with minor injuries at the time of transport when you see the condition of the truck cabin.
The accident is under investigation by CHP.
Thank you to the following agencies, BPFD, ICSO, CHP, Cal-Fire standing by at Big Pine and Caltrans.