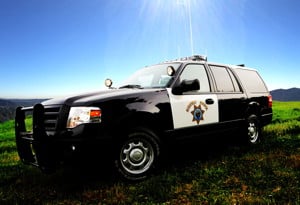 UPDATE AS OF 8:00 AM, the involved vehicles (truck-tractor and trailers) are partially in Virginia Creek, immediately west of US 395, and leaking motor oil and possibly diesel fuel into the creek.  This is now a being managed as a hazardous materials incident.  Representatives from the California Department of Transportation (Caltrans) are on-scene to assist with clean-up while Patriot Environmental Services, a private hazardous materials clean-up company, is en route from Bakersfield.
Bridgeport Fire Department has re-responded to the scene.  Representatives from the California Department of Fish and Wildlife are also en route.  The California Highway Patrol is responsible for the investigation of the incident and will continue to manage the incident throughout today.  Motorists are again asked to use extra caution in this area as workers will be in close proximity to US 395 as clean-up continues throughout the day.  Motorists should expect intermittent delays of up to 30 minutes throughout the day as clean-up and removal of the vehicles continues.
On Friday, October 10, 2014, at approximately 3:45 AM a non-injury collision occurred involving a truck/tractor pulling two trailers on US 395, north of State Route 270 (Bodie Road).  Two on-duty California Highway Patrol (CHP) officers responded and a CHP sergeant was called out from their residence. Bridgeport Fire Department initially responded and cleared the scene a short time later.
As of 6:25 AM a large tow truck is on scene and a plan is being developed to up- right the "big-rig" and trailers.  Removing these vehicles could result in intermittent roadway closures lasting up to 30 minutes both north and south of the collision location.  A formal press release will be disseminated this afternoon regarding this incident.