By Deb Murphy
The horses involved in a senseless attack last Monday morning at Big Pine Saddle Club are on the mend, the reward has nearly doubled and immediate plans are underway for a security/surveillance system at the site.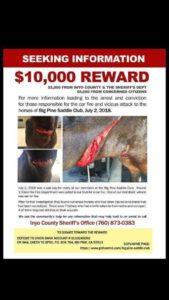 Last Friday, the Sheriff's Department announced a $5,000 reward for information leading to the arrest and conviction of the perpetrator of both the assault on nine horses and the torching of a pick-up at the club. A club member offered a $1,000 reward the day of the attack, staff at Inyo's Animal Control and individual contributions have boosted the total reward close to $10,000.
The club's GoFundMe account has hit more than $6,000 of a $10,000 goal. The funds will be used to assist members with vet bills and to purchase and install a surveillance system and the infrastructure to operate that system. The Big Pine Volunteer Fire Department has also contributed funds toward that end. The club is already initiating security measures.
The club, unlike private stables, provides a low-cost way to keep area residents' horses on leased land. The animals that were slashed are more pets than work horses.
Anyone who wants to see the reward grow can make contributions at Union Bank to account number 0110245092.
Just as members were assuming last week's attack was an isolated incident, information came through on a similar attack on a horse pastured on Pa Ha Lane in Bishop.
###
From Inyo County Sheriff's Office
Sunday at around
1:50pm
, Sheriff's Deputies responded to a victim of an assault in Big Pine; according to the victim, the attacker referenced the Saddle Club incident as the reason for the attack.  We ask that the public keep in mind that this is an open investigation. Vigilante justice is not only unacceptable, it is a crime – and vigilante justice only hinders the investigation.
We cannot underscore enough that the best role that the public can play is as a reporter of relevant information and credible tips. The Sheriff's Dispatch # 760-878-0383.