Inyo County Sheriff's Office news release
On 05/28/2018, at about 6:30am, members of the Inyo County Sheriff's Department Major Investigations and Narcotics Taskforce (MINT) served a search warrant at a residence on Dewey Street in Big Pine,  for the illegal sale of firearms.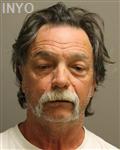 The resident, Mark Osterman was arrested on a Ramey warrant without incident.  During the execution of the Search Warrant, Investigators located homemade explosive devices, also known as "pipe bombs".
Osterman is currently being held at the Inyo County Jail on $100,000 bail.