Bishop Police Department press release
On Monday, July 31, 2017 the Bishop Police Department was contacted by management from JC Penny's, located at 201 S Main Street, Bishop, to report an embezzlement by an employee.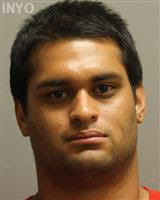 Officers made contact at the business where the employee was already being detained by staff. The employee was cooperative with the investigation and admitted to stealing over $10,000.00 in cash from the business over the last several months.
Tyler Mataio Amisone, age 23 of Big Pine, was arrested and transported to the Inyo County Jail where he was booked for Penal Code Section 503 – Embezzlement over $950.00 – a felony, and Penal Code Section 1203.2 – Violation of Probation.
The investigation is continuing at this time, and anyone with additional information is encouraged to contact the Bishop Police Department at (760) 873-5866.