Big Pine Paiute Tribe press release
(Big Pine, Calif.) — Speaking on behalf of the Big Pine Paiute Tribe, Chairwoman Shannon Romero extends a sincere thanks to the many people, near and far, who supported their five-year struggle to get the Los Angeles Department of Water and Power (LADWP) to repair its broken pipeline that caused the community to lose half its irrigation water.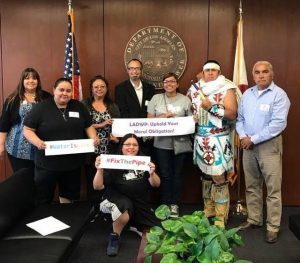 More than 40 people gave public comments at the March 21, 2017 meeting of the Los Angeles Board of Water and Power Commissioners, held at LADWP headquarters.
"The day was an amazing show of solidarity with people uniting to demand that LADWP do the right thing," said Romero. "The letters, prayers, public statements, and words of encouragement were heard by the Commissioners. I'm happy to report that the next day, March 22, the Tribe was informed that LADWP will fix the pipe within the next six weeks, so that our community will receive irrigation water in time for the 2017 growing season."
Tribal representatives from the Owens Valley, including Big Pine tribal elders, youth and staff, made the eight hour trip to Los Angeles, where they were joined by Southern California citizens concerned about the issue. Four hours north in Bishop, Calif, about 40 people crowded into a small conference room where the Commission meeting was being telecast, and more citizens added their concerns about the Tribe not getting it's share of water.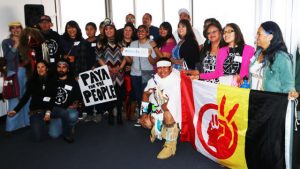 The support and testimony provided during the public comment resulted in an uncharacteristic response — each of the Commissioners engaged speakers and replied during the meeting, and one of the commissioners said that she would personally assist in resolving the water crisis by providing the funds needed to fix the pipe out of her own pocket.
The Tribe is pleased with the commitment by LADWP to fix the pipe, Romero said, but vigilance is needed to ensure LADWP carries out the pipe replacement in a timely manner, and ongoing consultation is needed to resolve longterm water rights issues.
"The Tribe and others in Owens Valley continue to struggle with establishing a meaningful working relationship with LADWP," she said. "The Tribe has unmet consultation needs and unresolved water rights issues. It concerns the Tribe that commitments critical to life and the future of Owens Valley tribes — which were spelled out in the 1939 land exchange agreement between the City of Los Angeles and United States of America — may no longer be a priority for DWP.
"The Big Pine Reservation is adversely affected by ongoing impacts due to LADWP's water gathering activities, including the excessive amount of groundwater pumping from the Big Pine area, and LADWP's apparent apathy toward fulfilling decades-old mitigation obligations. The Tribe is committed to continuing in its efforts to work with LADWP leaders to develop ways to move forward cooperatively and resolve problems in a streamlined, non-confrontational manner."
In reflecting on this week's win, the Tribe said it hopes that LADWP, and Los Angeles in general, see that tribal nations stand together for environmental protection. In September 2016, the City of Los Angeles issued a resolution in support of Standing Rock Sioux Tribe recognizing "the rights of Native American Tribal Nations to
protect their sovereign resources."
We're asking the Mayor, the City, and the Board of Commissioners to please honor that resolution and continue standing in solidarity with Indian Nations to protect sacred water and the rights of tribal nations."