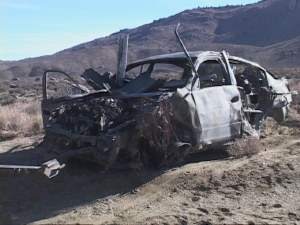 Thursday around 9pm, a 22-year-old Big Pine man sped away from a CHP officer, veered up Bir Road off South Barlow Lane, and at 80 mils per hour could not make a right hand curve. He flew off the road, struck numerous boulders, was ejected from his car which burst into flames. John L. Ericson, Jr. of Big Pine died at the scene.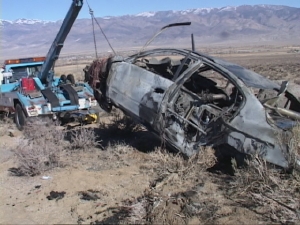 According to the CHP, an officer saw Ericson driving on Brockman Lane, south of Highway 395 at a high rate of speed. The officer tried to stop Ericson who then accelerated and began to flee, according to the CHP.
Officers said Ericson kept going on Line Street and then southbound on Barlow Lane, traveling at around 100 miles per hour. He made a right turn on Bir Road at about 80 miles per hour.
Officers said the driver could not negotiate a curve to the right and flew off the south roadway edge into the desert. The car struck several large boulders and Ericson was ejected and died from his injuries.
Bishop area CHP officers and the CHP Multidisciplinary Accident Investigation Team will continue to investigate this incident.