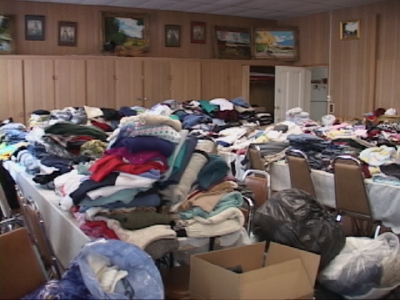 Almost two weeks ago, sudden and brutal fire tore down the foothills to Big Pine. The blazes destroyed some 30 structures and left 19 families homeless. The flood of help has come from all over the Eastern Sierra and beyond. Here's the latest.
At the Methodist Church in Big Pine, Reverend Karen Moore said almost all of the fire debris is gone thanks to local volunteers and this week members of the Southern California Baptist Disaster Group. Top soil has even gone in some lots. This work has meant the removal of lost homes and plans for new ones.
Reverend Moore said that one family does want to buy a modest mobile home and another woman needs a place to rent in Bishop. She said that if anyone has information on either of these needs, call her at 938-2320 or Christa Padilla at Big Pine School, 938-2222.
The reverend said she sees a lot of positive change in this short time since the disaster. "People will grieve a long time," said Reverend Moore, "but the positive change is that they are accepting reality and moving on." The Methodist Church has served as supply central for the fire victims with hundreds of pieces of donated clothing, household goods and furniture. She said financial donations are being divided equally among the families.
At IMACA, Jane McDonald said that the agency wants to express its deepest appreciation to the many individuals and businesses who have helped with money and goods for the fire survivors.
McDonald said the community response has been so substantial that at this point, IMACA no longer seeks donations. IMACA officials said the overwhelming support from residents and organizations from Mammoth to Lone Pine has "been an inspiring reminder of the generous and caring community in which we live." They do encourage fire victims to continue to call them with their needs. IMACA collected nearly $7,000 and does have funds for motel rooms. Call them at 873-8557.