PRESS RELEASE:
The Owens Lake Spring Day on April 23, 2013 results are attached below. It is a staggering number. Many thanks to the volunteer birders who came from all over the state and also thanks to Debbie House and her crew of LADWP biologists. We put teams out on the lake all day and are very pleased with the results.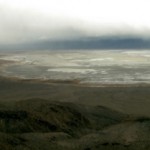 This total of 114,999 birds on the lake in one day is a new high, the previous high being last April of ~75,000.  Of significance is the shorebird  total – 63,524 of 20 different species. Of course the many other species observed are also important and diverse. Results vary from year to year for many reasons so the data over time will give us the most accurate view of this amazing resource.
Owens Lake certainly has national, if not hemispheric, importance once again as a wildlife stopover. It is Inyo County's largest wildlife location and has tremendous potential for attracting wildlife viewers in fall and spring each year. Good for all of Inyo County, but especially the southern Owens Valley.