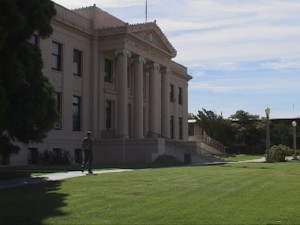 Lots of changes in the important Public Works Department of Inyo. The director will leave at the end of the month and the deputy director will leave too.
Inyo County Administrator Kevin Carunchio confirmed that Director Ted Pederson will retire effective the end of this month. Doug Wilson, a contract public works director who lives in Tulare County, heads up Inyo's Public Works Department on a temporary basis two or three days per week.
Carunchio said in a week or two he will sit down and examine the contract with Wilson. He said that Inyo has advertised the director position and the application period closes February 15th. Carunchio said if it is a strong recruitment a new Public Works Director could be on board by April. He called the department high profile and critical with a need to take time to fill the director spot.
Carunchio confirmed that Deputy Public Works Director Loren Clifton will also leave to accept a director position in northern California. So, now, Inyo will look at an interim deputy.