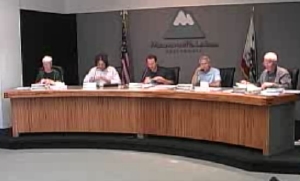 When the Mammoth Town Council meets Wednesday, they will give the public a chance to comment on the proposed Business Improvement District assessments, will hear an update on Digital 395 and talk more about next fiscal year's budget.
The agenda also holds a barely noticed item that Martin Kleinbard of Mammoth Lakes brought to our attention. It's called the Town's Electronic Media Use and Electronic Communication Retention Policy. The policy calls for retention of public documents for two years after which they are deleted or destroyed. This could include emails related to Town business or Council decisions. Kleinbard said it appears other state agencies have gone the same route. He sees it as a problem for the public process.
At 5pm, the Council will hear from Mono County Digital 395 Project Manager Nate Greenberg on how the project has moved along. They also planned to continue discussion on the baseline budget for Fiscal Year 2013-2014. Last month, Town Manager Marianna Marysheva-Martinez announced that the new budget was short about $560,000. She offered several ways to make up for that shortfall.
The Council will recognize retiring Police Lieutenant John Mair on their agenda and introduce the Recreation Department Staff. Under policy items, the Council will consider prohibition of skateboards on Town streets and they will consider initiation of a Code Compliance Task Force.
Last on the agenda is a time for public comment on the Mammoth Lakes Tourism Business Improvement District. This proposal means a 1% tax on lodging, a 1.5% tax on restaurant and retail stores and a 2% tax on lift tickets and ski school sales. The new money is designed to pay for marketing and sales promotion for tourism in Mammoth Lakes.