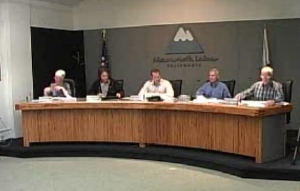 In ten years, Mono County will have to find an alternative to Benton Crossing Landfill. The Los Angeles Department of Water and Power doesn't want to lease the land for that purpose after 2023. At the Mammoth Town Council meeting Wednesday night, Mayor Pro Tem Rick Wood said Town and County officials are talking about it.
Wood said he and Council member Jo Bacon attended the Town-County Liaison Committee meeting and talked about the solid waste issue. Wood said, "The landfill today will not be available in ten years from now. There is an extraordinary cost to close it and monitor it." Wood said there are also new recycling requirements.
Wood said the Town and County have "not had the best relations in the past on this issue." He said Town Manager Marianna Marysheva-Martinez is reaching out to the County to find ways to work collaboratively. Said Wood, "We need a place to haul trash. Opportunities may come forward."
Wood said he and Mayor Matthew Lehman also attended a Town-Mountain Liaison Committee meeting. The topic of the new Business Improvement District tax came up. Wood said there is apparently support for the BID and the concept will come to the Council possibly in early June.
Councilman Wood, an avid runner, also made note of the horrible bombings at the Boston Marathon. He quoted Amby Burfoot, well-known marathoner and journalist. Wood said Burfoot pointed out that "It was not just an attack against the Boston Marathon but against the American public and the use of our streets. The roads belong to us. It's about our freedom and democracy."