Press release
Mammoth Lakes — Ski fast! Shoot straight! The Mammoth Biathlon, organized by Eastern Sierra Nordic Ski Association (ESNSA), has a history of being one of the community's favorite events and after a one-year hiatus (due to lack of snow), the event returns March 19-20 at the strikingly beautiful venue in the Reds Lake basin at Mammoth Mountain Ski Area.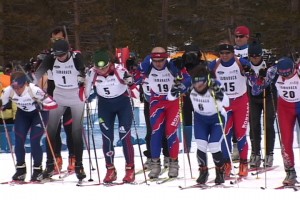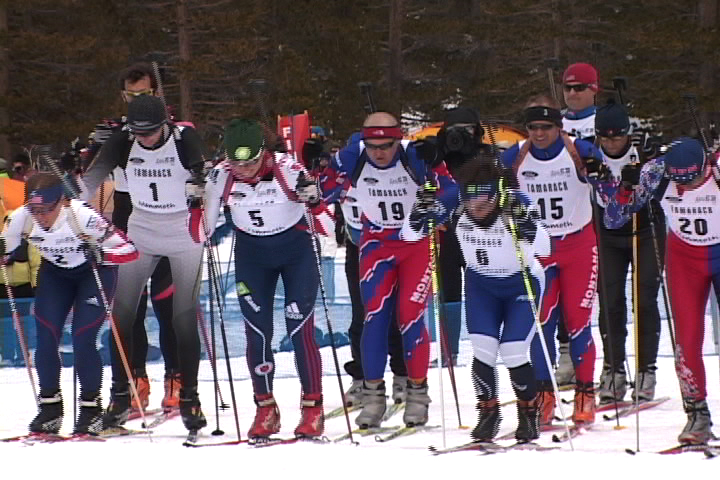 The event combines cross-country skiing with rifle shooting in a competitive race where all ages and abilities are welcome and encouraged to participate. Registration closes Friday, March 11.
"Mother nature has cooperated with us and we are very excited to be able to hold the event this year," said race director Tom Reid, M.D. "The snow has been awesome for cross country skiing and there will be plenty of snow at Reds to create our race courses. In years past, racers showed up from all over the country and included elite athletes, citizen racers, members of the National Guard, wounded warriors, and Paralympic athletes.
"While we have had national team athletes in the elite category, this is also a locals race for kids and adults with no shooting experience at all," said Reid.
Owning a biathlon rifle is not a prerequisite to register. ESNSA provides racers who do not have a biathlon rifle with a community rifle and ammunition. Participants using community rifles leave the rifle at the range while they ski the course. Elite racers who own their own rifle and are Red Book certified are the only racers allowed to ski the course with their own rifles.
"There will be range procedure demonstration both mornings of the event as well as mandatory safety discussions immediately preceding every race. There will be a safety officer at every lane, with every rifle and competitor to make sure everyone, especially the kids, are safe and have a great experience" said Reid.
This year, Mammoth Winter Biathlon will offer races in the following categories: Junior boys and girls (ages U8, U10, U12 U16, U18 and U20); disabled athletes; beginner adults; elite adults; and master & senior adults. Youth races (19 years and under) cost $40 and adult races (20 years and older) cost $65. Race distances range from 3km to 7.5km, depending on the category.
Racers shoot from a distance of 50m, except for the younger Juniors (U8, U10 and U12) who shoot from 25m. In addition to racing, clinics are available for those looking to improve their skills as well as those seeking an introduction to the sport.
Pre-race laser rifle clinics are $30 each and are offered Sunday, March 13 (at Mammoth Community Center) and Thursday, March 17; and Friday, March 18 at Mammoth RV Park.
Event details and schedule
Sunday, March 13: Laser Rifle Clinics Thursday, March 17: Laser Rifle Clinics and Race Bib & Packet Pickup Friday, March 18: Laser Rifle Clinics and Race Bib & Packet Pickup Saturday, March 19: Biathlon races at Reds Lake area: Juniors U8 thru U12, Disabled Athletes, and Beginner Adults Sunday, March 20: Biathlon races at Reds Lake area: Elites, Juniors U14 thru U20, and Seniors & Masters Adults Reds Lake
Participants and spectators are encouraged to make their own way to the venue at Reds Lake, which is 1.25 miles from Main Lodge. You can walk or Nordic ski to the site, or if you are on alpine skis and have a MMSA pass, it's an easy ski down from the top of Chair 12.
For those participants who are not able to ski to the site a limited number of seats are available on shuttles leaving from the base of Chair 12. A free one-time lift ticket for Chair 11, included in registration gives access to the base of Chair 12 and the shuttle leaves from there.
A limited number of tickets for transport of spectators who cannot walk or ski to the site will be available for purchase ($10) on Saturday, March 19 and Sunday, March 20 at the Slopeside Building, Main Lodge. Racers and spectators are asked to allow plenty of time to reach the venue.
Volunteers needed The Mammoth Winter Biathlon is a fundraiser for ESNSA and as such, the event requires a league of volunteers. Those not participating are encouraged to volunteer.
You can even do both! If you're interested in volunteering or sponsoring the event, email [email protected]. For more information or for race registration, visit www.mammothbiathlon.org. Events and races subject to change. Space is limited, so register today.
Note that this year registration closes earlier than in past years – Friday, March 11.