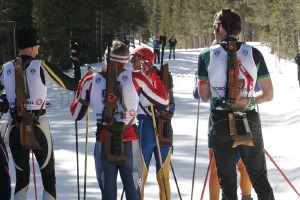 The Seventh Annual Mammoth Winter Biathlon is On!

Race Director Mike Karch has surveyed the Reds Lakes area–we have enough snow!
Bill Koch: "A ski race is a celebration."
Despite the lackluster winter, we're going to have a biathlon, and we're going to celebrate.

More information soon. The biathlon team is working on updating the websitehttp://www.mammothbiathlon.org/ .
The current website is correct for all things except dates. The dates for this years race are March 21-23. All details with regards to times, locations, schedule of events and fees will be exactly the same as last year as posted on the current website… Just shift the dates.
Registration on the website and Active.com opens on February 20, 2014.

Mark your calendars. Stay tuned for more details.

Yee Haw!
Ski Exuberantly,

Hank