Bianca Cruz (Orozco) Babcock
April 14, 1989 – October 28, 2018
Bianca Cruz (Orozco) Babcock was born in Bishop California on April 14th, 1989 to Andres Rivera Orozco and Maureen Mary (Denver) Cardenas.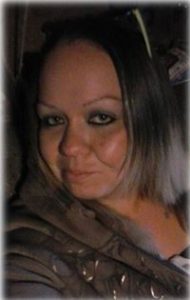 Bianca graduated from Palisade Glacier High School. She worked as a Beverage Server at the Paiute Palace Casino. She enjoyed interacting with her customers. In June of, 2008 she gave birth to her first-born son, in April of 2010 Bianca had her second born son, and in June of 2011 she had her first-born daughter. Bianca loved her three children more than anything.
She was a very kind, loyal, and loving; mother, sister, niece, aunt, cousin and friend. Bianca was a great listener to many others who needed someone to talk to. She would give the shirt off her back to someone in need. We will always remember what kind soul she had and try to honor her by being better listeners to others. We will definitely miss her.
Bianca is preceded in death by both of her parents Andres Rivera Orozco & Maureen Mary (Denver) Cardenas, maternal aunts and uncles; Connie Mack Denver Jr., Reginald Denver, George Denver, Marilyn Caye Denver, and Ava Renee Denver, paternal aunt Mari Orozco Rivera, maternal grandparents; Connie and Rosalind Denver, paternal grandparents; Maria Cruz Orozco Rivera and Jorge Orozco Borga.
Bianca Cruz is survived by her three children Jason Estefan Orozco, Jared (Jer Bear) Mack Babcock, and Jennifer Ashanti Babcock, Sister; Melissa Ann Kilgore, Brothers; Antonio Cardenas Jr. and Andres George Orozco, Brother in-law; Shawn Kilgore, Cousins; Raymond Richard Denver, James Paul Denver, Rosemary Denver, Gabriel Marquez, Connie Mack Denver III, Viviana Alcantara, Mauricio Javier Rodriguez, Uncles; Tilford Paul Denver, Jorge Orozco Rivera, Carlos Marquez, Aunt Gwendolyn Rose Marquez, nieces; Karah Lynn Cardenas, Rosalind Jade Cardenas, Ava Merie Cardenas-Kilgore, and numerous cousins and extended family.
A Memorial Service and Celebration of Life will be held Saturday November 3rd, 2018, 11:00am at the Barlow Lane Gym. Burial with graveside services to follow at the Sunland Indian Cemetery. Food will be served at the Barlow Lane Gym following the graveside.