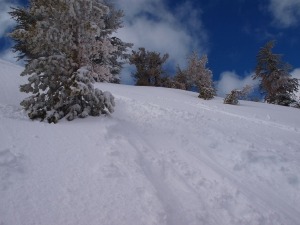 The Tahoe area deaths of a ski-patrol avalanche expert at Alpine Meadows and a snowboarder at Donner Ski Ranch shocked and saddened many. Those deaths and the very real avalanche danger have caused authorities to send out warnings to stay out of the backcountry until the snowpack has settled and solidified.
Thursday morning, the Mono County Sheriff's Office alerted all local media to get the word out about the avalanche danger in Mono County. Public Information Officer Jennifer Hansen reports that "During the last series of storms to arrive in Mono County, a substantial amount of snow has fallen in the backcountry." She said at times, the series of storms produced snowfall rates in excess of one inch per hour for twenty-four hours.
Hansen said conditions also include wind loading on the lee side of the mountains and ridge lines and that early season snowfall has crystalized and formed an extremely smooth base for the new snow to rest on, creating a seriously dangerous avalanche possibility.
Hansen went on to say that the recent heavy snowfall, high winds and smooth hard pack base has "significantly increased the avalanche danger in the backcountry areas of Mono County."
The Mono Sheriff's Office says backcountry travel is not advised until the snowpack has settled and solidified. The press release goes on to say if you do travel in the backcountry, advise non-traveling friends and relatives with information in case the need arises to call for help:
1. Where are you going?
2- Who is going with you?
3. Does each member of the party have an Avalanche Beacon?
4. What time are you leaving?
5. What time do you expect to return?
6. Are you carrying a cell phone?
7. Where are you parking your vehicle for your trip?
8. Leave a legible note on the dash of your vehicle as to where you are going and your expected time of return.
For more information on snow conditions and avalanche warnings, you can go to the website of the Eastern Sierra Avalanche Center. Their December 26th advisory, written by Sue Burak, says the bottom line is dangerous avalanche conditions exist above and below the treeline on north through east aspects. She says newly formed wind slabs and heavy snow loads from the Christmas storm "ensure large, destructive human triggered avalanches are possible today. Natural avalanches are also possible."
That website address is www.esavalanche.org. The Mono Sheriff's Office also recommends The Sierra Avalanche Center or the National Weather Service in Reno at www.wrh.noaa.gov/rev/avalanche.