BETTY GILLESPIE 1920-2017
Private graveside services for life-long Bishop resident Mary Elizabeth "Betty" Gillespie, 97, will be held Friday, September 22 at 11:00 a.m. at the West Line Street Cemetery. Following the private services, an open celebration of life will be held at 12:30 p.m. at the home of Gary and Denise Gillespie, 2265 Sunrise Drive, Bishop.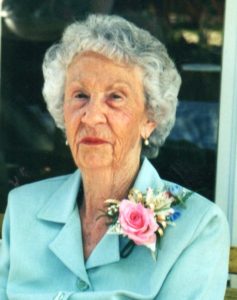 Betty died on September 12th shortly after developing pneumonia. She had been a resident of Sterling Heights for the past few years.
Betty was born in Bishop on February 24, 1920 to Arthur and Edith (Rupp) Barlow. The four Barlow children, Art, Helen, Betty and Jack were raised on the ranch on east side of Barlow Lane. She graduated from Bishop Union High School in 1938. Betty worked for the local Western Union office and later attended the University of Nevada Reno for a year. In 1942 friends introduced her to Kenneth Gillespie from Texas and they married on April 28, 1945.
In 1950 Kenny started Gillespie Distributing on East Line Street and Betty joined him at the business in 1962. Following Kenny's death in 1993 Betty and sons, Mike and Gary, ran the family business. She retired from the warehouse at the age of 86 when she tripped on a pallet jack and broke her hip. After 67 years, the business is under the leadership of Mike, Gary and Todd Gillespie.
Survivors include son and daughter-in-law Mike and Adrienne Gillespie; son and daughter-in-law Gary and Denise Gillespie all of Bishop; brother Jack Barlow and family of Canoga Park; granddaughter Tracy Method, grandson Todd Gillespie and wife, Brittin; grandson Brent Gillespie and wife, Sarah; step granddaughter Julie Ray and husband Seth Barlow; step granddaughter Heather Willis and husband Seneca; step granddaughter Angie Ramos and husband Mike; and step grandson K.C. Ray; and numerous great-grandchildren and nieces and nephews.
Donations in her memory can be made to the Laws Railroad Museum or to a charity of choice.