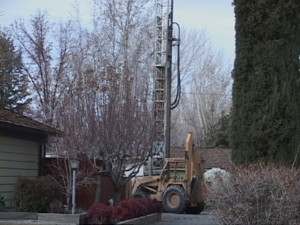 While the Inyo Water Department searches for answers to dried up West Bishop wells and a ten-foot drop in a monitoring well, citizens have begun to galvanize their concerns over lakes, creeks, water ditches, ponds and the groundwater table.
One local citizen, Philip Anaya, has made it a point to speak at the Inyo Supervisors' meetings, the Bishop Chamber of Commerce Board meeting, the Inyo Water Commission meeting, the Bishop Creek Water Association Board meeting, and in our website comments. He strongly believes the Department of Water and Power should look for a way to help manage water that fills South Lake and Lake Sabrina, water that also flows down Bishop Creek into ditches and ponds in West Bishop. DWP Manager Jim Yannotta says DWP has to abide by the Chandler Decree of flow requirements. Southern California Edison officials say DWP has agreed to different flows in the past to help manage the basin.
Last year's dry lakes, ditches and ponds alarmed property owners in West Bishop. Some are now more alarmed at the fact that their wells have gone dry. At the last Water Commission meeting, Anaya spoke in Public Comment to support recovery of the lakes and better management. Water Director Bob Harrington's report at that meeting also pointed to a lack of surface water recharge as possibly responsible for the dry wells.
At the last Supervisors' meeting, Anaya spoke for lake recovery and pointed to Harrington's report. That evening, Anaya headed to the Bishop Creek Water Association meeting. He said there were tense conversations about no water for the ditches which Bob Harrington said served as re-charge for the groundwater aquifer. Anaya said Supervisor Rick Pucci asked for some positive steps for the upcoming water year. Anaya himself offered his ideas, including adaptive management by DWP, taking the water year into account. The Creek Association voted to support the ideas.
In earlier weeks, the Bishop Chamber Board also voted to support Anaya's ideas and to send a letter to DWP. As what looks like a drought year continues, officials and citizens point to dry wells and potentially dry business coffers if the lakes and streams do not improve.