Press Release
MONO COUNTY, Calif. – While a record-breaking winter has left some of the highest alpine trails of the Sierra socked in snow, Mono County's Eastern Sierra, with elevations ranging from 4,000 to 14,000 feet, offers hundreds of miles of snow-free trails for a wide range of adventures.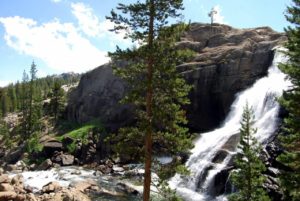 From a leisurely stroll along a crystal-clear lake refilled by last winter's bounty to high adrenaline mountain bike rides through meadows turned bright green and filled with flowers by all the new water, now is the perfect time to explore one of California's best-kept secrets.
South of Mammoth Lakes, a mile-long easy hike around Convict Lake under red and silver granite towers wanders through aspen stands, over a roaring creek, and offers an option to continue up into Convict Canyon for more adventurous hikers.
Near June Lake, Fern and Yost Lakes are free of snow with a brand new crop of wildflowers painting the landscape in a wide range of colors – while Parker Lake is full and deep blue.
In northern Mono County, Silver King Creek outside of Walker is a little-known hike of astounding beauty where hikers aren't likely to see another person for miles.
Mono Lake, which has risen more than two-and-a-half feet this year, is a great place to hike as well, whether following Lee Vining Creek down to the lake or trekking around its other-worldly tufa towers.
Lower Rock Creek Trail outside of Tom's Place is a mountain biking favorite through aspen groves and in a canyon strewn with volcanic rock, and is snow-free and in great condition.
Fully refilled bodies of water around the June Lake Loop, Mammoth Lakes Basin, Bridgeport, Crowley and Convict Lakes make for great boating, kayaking and stand-up paddle boarding – along with a fishing season that will go down in history.
To find details on conditions, directions to the above trails and much more, go to www.monocounty.org.
About Mono County: 
Located approximately 315 miles north of Los Angeles, and 280 miles east of San Francisco, Mono County accesses the east entrance to Yosemite National Park and beckons visitors in all seasons.  The Eastern Sierra's vast playground is an easily reached destination whether arriving by car on the all-weather US Highway 395, or taking advantage of convenient direct flights to Mammoth Yosemite Airport (MMH) on Alaska or United Airlines from Los Angeles International Airport (LAX), San Diego (SAN) and San Francisco (SFO), or arriving by via Surf Air or charter flight from Burbank (BUR) via JetSuite.  US Highway 395, which traverses Mono County from north to south, is a State Designated Scenic Byway offering motorists tremendous vistas right from the steering wheel and countless side-roads, hiking trails, lakes, and roadside villages to explore.  For more information or to request guides, visit MonoCounty.org or call 800-845-7922.