For something like 24 years, local attorney Peter Tracy has served as both Mammoth and Bishop city attorney. He decided to retire from his Mammoth job at the end of this year, and the Mammoth Town Council has gone to a major California law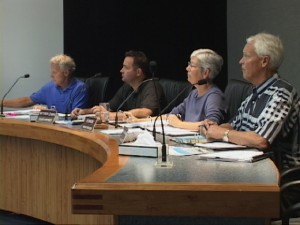 firm that specializes in city government work.
The Council voted to hire the law firm of Best, Best and Krieger which serves as city attorney for 31 cities in California. They added Mammoth Lakes to their list with Andrew Morris, one of their lawyers, to serve as Mammoth's Town Attorney for $205 per hour.
Morris will attend all Town Council meetings and his firm will be available for all legal needs of Mammoth Lakes. Best, Best and Krieger is a 200-lawyer firm and considered the largest specialist in municipal law in California, according to Town Manager Rob Clark.
The firm supports offices in a number of California cities. Andrew Morris headquarters in Sacramento and Truckee. His contract with the Town of Mammoth Lakes became effective at the Wednesday night Town Council meeting. Morris will officially take over after Peter Tracy leaves at the end of this month. Clark said until then, the two lawyers will work on a transition.
The Town Council considered nine large out of area law firms for the Town Attorney position. Councilmen Rick Wood and Matthew Lehman formed a sub-committee and reviewed all of the proposals. Initially, they considered a monthly retainer of $18,000 but negotiated an hourly rate of $205. According to officials, the combined salary and benefit cost for the current Town Attorney is roughly $280,000. The Council believes they will save money under the new arrangement.