By Deb Murphy
Raymond Bencoma will be back in Inyo County court Monday for a retrial on charges that hung the jury in early May.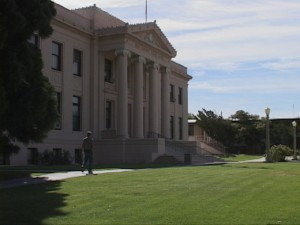 Bencoma was found guilty on charges of possession of firearms and ammunition by a felon, not-guilty on a charge of possession of stolen property. The hang up was on four charges of assault with a firearm on law enforcement. His defense attorney Josh Hillemeier argued Bencoma had no way of knowing officers were approaching his home on Winuba.
The prosecution will try to convince another jury he did know.
It took two and a half days to pick a jury for his fist trial, so opening arguments may not begin until Wednesday or later.
The trial of Ken Rossy is scheduled to start November 6, just short of five years since he and wife Dawndee Rossy were arrested on multiple charges related to embezzlement while Dawndee Rossy was employed by the County Department of Health and Human Services.
Ken Rossy was initially charged with grand theft, welfare fraud, criminal conspiracy and possession of controlled substances.
His wife was found guilty on 88 charges and sentenced to nine years in state prison last April.