Benjamin Carol Kutzkey was born on October 31, 1930 and passed August 14, 2016 with his family at his side.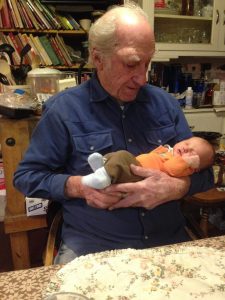 Ben was born in Los Angeles to Benjamin and Bertha Kutzkey. He lived his early life in Los Angeles, spending his days playing in the river and getting into trouble with his lifetime friend, Bill Rathfelder. In the late 1930s, his family moved to Trona, CA. Ben attended grade school there and had a wonderful time running around the desert, shooting lizards with his .22 rifle.
During his junior high years, the family moved to Independence, CA and purchased the Independence Hotel and Bud's Standard Service Station.
Throughout high school, Ben worked at the Standard Service Station. It was here that his knowledge and love of auto repair truly blossomed. He played on the high school basketball team and earned the nickname "Ballerina Ben." He graduated from Owens Valley High School in 1948.
On February 7, 1950, he joined the U.S. Navy and became an Aviation Machinist Mate Second Class. While in the Navy during the Korean War, he was able to travel the world. When he left the service, he returned to Independence, CA with the hopes of running the Independence Hotel, but was sad to learn the hotel was being sold. Ben then began working with LADWP, assisting with the construction and repairs of the aqueduct.
In 1957 he met his first wife, Pat Robbins. Together they created a wonderful family with daughter Cheri and sons Ken, Rick, Mike, and Greg. In 1958 he began working with the Inyo County Road Department at Manzanar. In 1961, Ben moved his family to Laws, where he was the caretaker. They lived in the "Commander's House." When his son Mike was born, Ben was given approval to build an add-on to the "Commander's House" which still stands to this day. On the final day of operation at the Laws Post Office, Ben purchased the final cancelled stamp. This is now on display at the Laws Railroad Museum Post Office.
Ben and the family were saddened to learn that Greg, the youngest of Ben's children, had juvenile diabetes. Shortly thereafter, his wife Pat was diagnosed with Multiple Sclerosis. She then passed away in 1973. He met his second wife, Barbara Peterson, who took in all of Ben's children as her own. After only 2 years of marriage, Barbara passed away from a pulmonary embolism. Although he was devastated, Ben never gave up and continued to be a wonderful father and provider for his children.
In 1988, he met Velia Marmolejo, who would become his third wife. As their relationship grew, he became an important father figure to her four children. As a family, they created many great memories of traveling, exploring, and simply spending time together.
In 1992, Ben retired from the Inyo County Road Department after 34 years. After retiring, Ben became quite busy with his coin, bottle and stamp collections. His collections were a lifelong passion and he was an original member of the Belles and Beaux Bottle Club. He was a Clamper with the Slim Princess chapter in the Eastern Sierra, joining in the 1960s. He was also a founding member of the original motorcycle course located at the end of Reata Road. He won first place in numerous enduro races, passing his love of the sport on to his children.
Ben will be remembered for his strong voice and opinions, as well as the pure love he had for his wife, children, grandchildren, and great-grandchildren.
He was preceded in death by his mother Bertha, father Ben, wives Pat and Barbara, son Mike, son Greg, and many of his beloved four-legged family members. He is survived by his wife of 28 years, Velia Kutzkey; daughter Cheri Frost; sons Ken Kutzkey and Rick Kutzkey; step-sons Scott Harmon, Rick Harmon, Shay Boziel and Ben Suleski; seven grandchildren, eight great grandchildren; and four-legged family members, Nathan and Heather.
Graveside services will be held on September 2 at 10:00am at Pioneer Cemetery on West Line Street. A celebration of life potluck will follow at 4:00pm at Mill Creek Station. Ben was not one to dress up for any occasion, and out of respect for Ben, the family requests that guests wear casual attire to the services.
In lieu of flowers, please make donations in his name to the Eastern Sierra Cancer Alliance.