Belva Irene (Smith) Guthrie born March 17, 1930, passed away peacefully at her home, on September 6, 2018. She was born in Kansas, the ninth of 11 children whom have all preceded her in passing.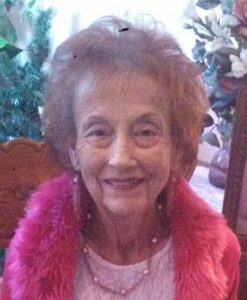 Her family moved to Lancaster, CA. when she was 3 years old. She lived and worked in Lancaster until she and her husband built a home in Green Valley, CA.
In the early 1990's, they moved to Big Pine, CA. She spent her career working at the Tenth and K branch of Bank of America in Lancaster for 34+ years, attaining the position of Assistant Branch Manager.
Belva attended grammar school outside of Lancaster "out by the old General Petroleum Plant", starting at the age of 4 to enable the school to remain open since it would have been closed with only 6 children in attendance.
The school had one teacher and encompassed kindergarten through eighth grade. She was handed her eighth grade graduation diploma while sitting on the floor of her one room schoolhouse.
She graduated from Antelope Valley High School. It was there that she met her beloved Herschal. She married Herschal Guthrie at the tender age of 17. Herschal was her soul mate for 60 years, when he was called to heaven.
She and Herschal belonged to a motorcycle club called the Trailblazers for many years. They owned and restored several Model A and Model T cars. Belva made era costumes for her family to match the year of the cars.
They were also camp hosts at the Glacier campground and Sage Flat campgrounds outside of Big Pine for several years.
Belva loved life but loved her dogs and family most of all.
Her other interests included music, dancing, singing, camping, tole painting and being "outside". She loved to watch the birds, any wildlife, the clouds and scenery. She loved to be a passenger in the car traveling anywhere.
She is survived by her son Ronald Lee Guthrie, Sr., his wife Lori, daughter Connie Harvey, and her husband, Gene.
She is also survived by 9 grandsons their wives, 20 great grandchildren, many nieces, nephews, great nieces and great nephews.
A Memorial for Belva will be held on Saturday, October 27, 2018 at 11:00 a.m., at the First Baptist Church of Big Pine, located at 293 Chestnut St., in Big Pine.
Any donations in her memory can be made to Pioneer Home Health Care/Hospice in Bishop, in her name.