Eastern Sierra Wildlife Volunteers need the public's help to find Karma, their beloved redtail hawk. Karma was last seen on November 5th, near Keoughs Hot Springs.
The big hawk is taken to events and schools to teach people about wildlife. Karma came to the care center in bad shape over three years ago. The bird has mostly recovered but care center volunteers say it won't survive out in the wild.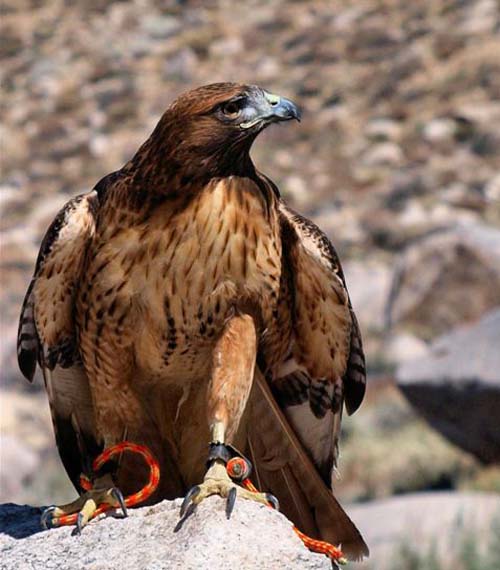 The fact that the bird is flying is a source of pride for the wildlife care volunteers. When the bird was found, he was about a year old and appeared to have had some sort of heat related head trauma. Feathers pulled from the wings led the volunteers to believe that someone had captured the bird possibly to train.
When the bird came to the care center, he could not eat on his own. Some animals that make it to the center cant be saved and have to be put down, but the volunteers stuck with this one. They force fed the hawk for nine months until it finally ate on its own.
Karma was last seen between Keoughs Hot Spring and Wilkerson. The bird had gone off track while flying in the high winds this week and has not returned. Karma is wearing black leather bracelets on both feet and may still have an orange cord that resembles a short leash. Cindy Kamler, with the Wildlife Care Center says that Karma, needs our help. Hes not going to survive out there, she says.
If you have seen this red tail hawk, call the care center at 1-760-872-1487.