While Bear-With-Us, the new non-profit wildlife management group in Mammoth, has been up and running for close to two months, it appears that members of the Mammoth Town Council and the group are not on the same page.
When Marianne OConnor with Bear-With-Us stood up at the podium at the town council Wednesday, a simple progress report turned into a heated debate over the role of Bear With Us.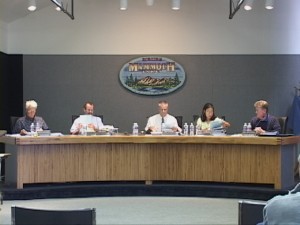 With public pressure to re-hire bear man Steve Searles to tend to the wildlife in Town, the council asked the citizens of Mammoth to form a wildlife non-profit similar to the Tahoe Bear League. Marianne OConnor and Joe Parrino stepped up and formed Bear-With-Us. The group has worked to gain non-profit status, and has hired Steve Searles to get him back out in the field with insurance coverage and workers comp. The town council had given Bear-With-Us $10,000 to get started and promised another $5,000.
Tensions between the Mammoth Police and Bear-With-Us ran high when the program first started earlier this summer, but since then those tensions seem to have eased as Bear-With-Us makes a go at wildlife management in Mammoth.
Reporter Laura Kirkner attended the meeting. She says that OConnor explained her dissatisfaction with some aspects of the new program that she says need to be worked out. With no legal ability to cross private property, use adverse conditioning techniques, or use a firearm, Searles is more of a bear vigilante these days. Despite these issues, Searles has been back at work with a Discovery Channel camera crew in tow.
After 15 minutes or so of presentation on the less than two month old non-profit, a debate flared up on what the program was supposed to do. Councilmember Wendy Sugimura explained that it was her impression that Bear-With-Us would simply be a public education program, and would not hire a wildlife specialist.
OConnor countered that she had been specifically told by the town to hire a specialist. Councilmember Jo Bacon asked about what was in the town contract with Bear-With-Us, but by design there is no contract with the group.
After 20 minutes of back and forth between Sugimura and OConnor, Councilmember John Eastman broke in to remind everyone that this was a public presentation and the council could take no official action. Maybe we ought to move on, he said.
John Eastman spoke of his desire to be on the town bear committee and possibly bring in other citizen help. Skip Harvey said that starting a new program is difficult, but he felt the group had made progress.
The ongoing issue of bear management in Mammoth is expected to continue at future council meetings.