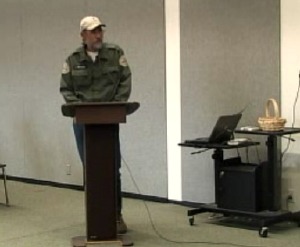 When the Mammoth Town Council met last Wednesday, Wildlife Specialist Steve Searles stood up to report that the bears are very active in Mammoth right now.  Last Wednesday, Searles said, he had 25 calls about bears on just one day.
Searles told the Council that food is scarce this summer, and the bears have come into Town for something to eat.  He urged the public to keep food out of cars and secured.
Councilman John Eastman asked Searles if all of the 25 calls on bears were bad situations.  Searles said, no.  There were no traffic collisions and no bear break-ins.  Searles said, "People care so much about the bears.  My phone rings off the hook.  One call was about a baby cub up in a tree.  Someone was afraid it might fall.
The Wildlife man said a number of young bears are out and about seriously looking for food.  He said some of the older bears have also moved down from higher elevations.  The calls on bears that day were more about checking on the animals.
In one instance, a bear was strolling down from the Canyon Lodge area to the Westin.  Searles received four calls from people who saw the bear.  In another case, a woman in the Lakes Basin was throwing things at bears to make them go away.  Her efforts were not very effective since she was throwing fresh fruit at them.
Searles again underscored the importance of not feeding the bears, keeping food out of cars and safe inside.  Dumpster covers need to be closed and locked. Searles is available during this busy bear season at 937-BEAR.