A bear in the Mammoth Lakes Basin has continued to break into cabins while humans have wrangled over who should do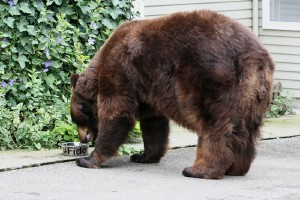 what with the animal.
Forest Service officials had made it clear they did not want Mammoth's Wildlife Specialist Steve Searles to do his work with either lethal or non-lethal weapons to deal with bears on forest land. Mammoth Police Chief Dan Watson said the same bear has broken into cabins more than 13 times in the last several days. Chief Watson said there has been a continuing discussion over jurisdiction. This issue came up when the Mammoth Wildlife Committee met Tuesday afternoon.
Wednesday, Chief Watson said that he spent time talking to Forest Service Ranger Jon Regelbrugge about the whole situation. Watson said the Forest Service believes property owners in the Lakes Basin need to contact Fish and Game for depredation permits if they want to destroy the bear breaking into cabins.
Police would only shoot the bear if it were threatening humans. Chief Watson said that soon representatives of the Mammoth Police Department, Forest Service and Fish and Game will meet to get a firm understanding of bear response for the rest of the year.
Meanwhile, Chief Watson said he gave a report to the Wildlife Committee on the issue of firearm use on Forest Service land. Inyo Forest officials have said that federal law does not allow use of firearms unless by police officers and not in developed areas.
Chief Watson said he's working with vendors of devices that do not use gun powder, and so are technically not guns, for Steve Searles to use on forest land. The Chief said these devices are non-lethal and are not firearms. He is waiting on a Forest Service response with the hope to resolve this issue.