Some Mammoth community members were disturbed when they found out the morning after the Sept. 2nd Town Council meeting that a mother bear and her two cubs had been destroyed by the Department of Fish and Game prior to that Council meeting. No one had spoken up about it on Sept. 2nd.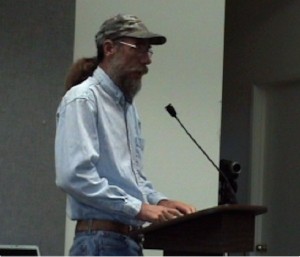 At the Sept. 16th meeting, Wildlife Management Specialist Steve Searles gave his usual update on the town's wildlife. He stated that he had no further information on the sow and her two cubs beyond what had been reported in the papers, radio and television. He did confirm that Blondie, a bear that caused a large amount of property damage this summer and for which a depredation permit had been issued, had not been seen in town for several weeks. He added that it is bear hunting season and DFG does not report the harvest from the Mammoth area, so Blondie could potentially have met her fate with a bullet one way or another if she had not just wandered off.
Bear calls to Searles have decreased dramatically, he said, almost to the point of being spooky. He could not say whether it was because the four most problem bears in town are no longer around, because the bears that are left are doing well weight-wise and are well-prepped for winter, or if people have stopped calling because trust in the system of dealing with the bears has been broken.
"An early winter would be a blessing for all of us," Searles said.
Lucy Parker, a local in the Eastern Sierra spoke to Council and asked to develop a partnership between her Native American people and the Town. Parker and her people have a great respect for bears. She explained that they believe that bears are their ancestors.
"We need to get it together," Parker said. "This problem is not going away."
Marianne O'Connor of Bear-With-Us requested, again, to be more involved in the process of dealing with the bears. She formally requested to be part of the Wildlife Subcommittee.
"We need to have agencies working together," O'Connor said. "Don't tell us that the relationships are good when they are not."
Lastly, local business owner John Mueller pointed out that Mammoth Disposal needs to distribute the "idiot-proof" trash cans more quickly. He claimed that not everyone remembers to latch the carabiners on the trash cans with locking systems. He felt that the trash cans with lids that close and latch on their own when shut were the best cans to use.
The bear item has been formally placed on the agenda for the Oct. 7th Town Council meeting where the discussion will continue.