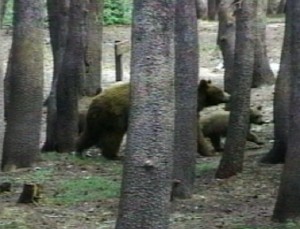 Imagine the shock for a Mammoth Lakes woman when she walked out to her car to go to working the morning, opened the passenger's door and came face to face with a very big bear. She slammed the door shut.
According to Mammoth Lakes Wildlife Officer Steve Searles, the bear had managed to open the car door, which was unlocked, and get in. The door apparently slammed shut on its own. A 300 plus-pound bear stuck in a car. He had demolished the insides, desperately trying to get out. Searles and Mammoth Police officers responded to the emergency.
They managed to get the car door open and let the bear out without anyone getting hurt. Searles said he fired some bean bags at the big animal to let him know he is not supposed to get in cars. Searles said this is not an uncommon happening, especially in the Spring when bears wake up. A good reminder to keep car doors locked.
Right now, Mammoth's bears are on a hard search for food to get ready for winter hibernation. Searles said fortunately this year, in spite of the drought, there have been plenty of dandelions and grasses for the bears to eat. More good news – last year and so far this year, no bears have been shot or hit by cars.
Searles continues to do daily checks on bear calls, but he said everyone is so nice about it and very accepting of the bears' presence. The bears have behaved well too, on the whole. Searles also patrols town dumpsters to make sure bears aren't getting in. He said very few are left open for bear break-ins.