A town somewhat overrun by ravenous bears? Mammoth Lakes law enforcement and bear management do have their hands full.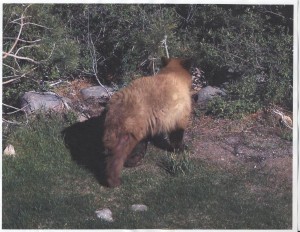 Police Chief Randy Schienle had earlier talked to us about the problem bear known as Blondie, who continues to rack up home invasions. Chief Schienle confirmed that the Department of Fish and Game would not issue a permit to the Town to shoot the bear, only to private individuals.
Wildlife Officer Steve Searles said that normally, he has seen bears break in four or five kitchens in a season. This year, he has counted 45 kitchen break-ins. Searles said bears are smashing through windows and doors. "Old Mammoth is under siege," said Searles.
Residents have begun to lock their doors and windows to keep the big animals out, but now the bears are breaking in anyway.
Blondie, who is just one of the highest profile problem bears, went into 30 homes in 20 days. Searles said he's never seen anything like what's going on this season. He called it a record year.
People in Mammoth have largely kept up with good trash compliance, but the numbers and aggressiveness of the bears has trumped good human behavior.
Town officials urge continued trash compliance and good common sense if a bear enters your home. You can call Searles or the police for help.