So, what about the bear scene in Mammoth Lakers? Earlier this month, citizens spoke out against the Department of Fish and Game's killing of a female bear who had broken into Lake George cabins in search of food. Steve Searles, bear behavior expert in Mammoth, said he has fielded a lot of phone calls.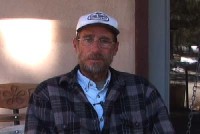 Searles, the man who launched Mammoth's bear management program a number of years ago, said that a lot of bear problems have come to his attention, including the dead bear found in a residential yard on Joaquin St. Searles said he would have done more work to find out why the bear died, which could have helped deal with future problems. When contacted, DFG officials said only that "there is a high probability the bear was hit by a car."
The Town Council will apparently address the bear issue in town when they meet in September. Officials earlier said that they would consult Yosemite to see how they deal with their bear issues. Ironically, it was Searles who started the bear management program for Yosemite. The Park hired him six years ago or so to train rangers on non-lethal management techniques. He said he worked for Yosemite for three years in a row to help establish their program.
Searles volunteered in Mammoth Lakes for a number of years to manage bears until this year when the Police Chief "fired" Steve, saying they no longer needed a bear management program. It was generally known that Chief Randy Schienle and Searles had differences over Steve's wish to start an anti-methamphetamine program.
More in September.