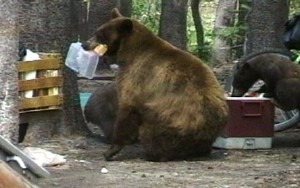 With bear season in Mammoth Lakes comes the same old issue.  Wildlife Specialist Steve Searles still can't use non-lethal weapons to manage problem bears on Forest Service land.  Mammoth Police Chief Dan Watson said he has tried to get Forest Service permission for Searles' specialized work, but things, he said, "are at a stalemate."
Chief Watson said he has tried to get Searles legally authorized to use his hazing, flash-bang and rubber bullet weapons involved in bear management.  The Forest Service has declined.  Officials point to a federal firearms ordinance.  Forest attorneys say unless someone is a peace officer, no lethal or non-lethal weapons are allowed on forest land. The Chief explained that the prohibition on the use of firearms or non-lethal weapons applies to developed properties in the forest – 150 yards from them.  He said that would cover streets, cabins, parking lots, or anywhere that people would be.  There is no prohibition farther away from developed locations.
Forest Service land entails most of the area where bears roam around Mammoth.  Right now, police officers have to use the non-lethal weapons.  Chief Watson said his officers work in a reactive mode to problem bears.  Searles, he said, is the one with the ability to spend two or three hours tracking, watching and disciplining problem bears.
The next thing the Chief will try to do is go for federal legislation and an exemption for Searles' work.
Right now, the bears are very active in and around Mammoth Lakes.  When we spoke to the  Chief he had just gone out with Searles to deal with a young bear that has been stealing fish from tourists.  The bear, said the Chief, needed discipline and got hazed.
With the pressures now on the Mammoth Lakes Police Department with a huge overtime cut and the loss of a position, there won't be much time for bear management.