– Press release from Mammoth Lakes Police Department
Type of Incident: Attempted Homicide/Carjacking Suspect Sought
Date/Time of Incident: Sunday July 5, 2015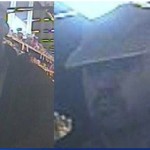 Location: Grass Valley, CA
Officers/Agencies Involved: MLPD, Grass Valley PD, Nevada County Sheriff's
Office, Nevada County DA's Office, Nevada City Police Department, California
Highway Patrol, US Marshalls Service, and the Federal Bureau of Investigation
Suspect: ALAN KIERKEGAARD aka: ALAN SORENSEN aka: ALAN CURTIS
SORENSEN KIERKEGAARD
Victim: Mary Grace Tassone, 78
Alan Kierkegaard is a suspect in the assault and carjacking of a 78 year old woman
outside of a Catholic Church in Grass Valley, CA.
Prior to moving to the Grass Valley area, Kierkegaard was living in Mammoth Lakes.
While in Mammoth Lakes, MLPD officers contacted Kierkegaard several times, as a
transient living near Mammoth Creek and at St. Joseph's Catholic Church.
Although there is no specific intelligence that Kierkegaard is back in our area or has
plans to return, often times criminals will return to areas in which they feel comfortable.
Attached are recent surveillance photos of Kierkegaard, as well as media photos
representing the victim's vehicle and license plate, which Kierkegaard may still be
driving. The vehicle is described as a 2013 Honda Accord, Gray, with California license
plate 6ZHX462
Do not approach the suspect or the stolen vehicle. Call 911.
Contact: Sergeant Marc Moscowitz Office (760) 934-2011 Cell (760) 914-1880