– Press release
Bishop Community Concerts Association is presenting a free performance – the Vanguard University Guitar Ensemble at the Dorothy Joseph Auditorium at Bishop Union High School on Monday, March 16 at 7:00 p.m.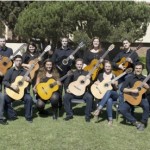 A large variety of music will be performed by members of the Vanguard University Guitar Program, under the direction of Dr. Greg Glancey and Michael Nigro. Vanguard University is recognized as having one of the strongest and active programs in Orange County.
The Guitar Program provides a thorough and challenging program of study for students who are wishing to complete their Bachelor of
Music in Performance, Music Education, Church Music, Composition, or Jazz Studies.
Many students in the VU Guitar Program are in the Bachelor of Arts in General Music, Bachelor of Arts in Worship Studies, or Music
Minors.
The VU Guitar Program includes courses in Beginning Guitar, Guitar Ensemble, Guitar Quartet, Fretboard Skills, Guitar Pedagogy,
Guitar History and Literature, and Private Instruction.
VU Guitar Program recently held its Second Annual Guitar Festival which hosted over 160 students from various high schools and
colleges from Southern California and as far as Arizona and Texas.
The VU Guitar Ensemble performs regularly both locally and out of state.VU Guitar Students have consistently placed or taken top
prizes in both solo and chamber competitions.
For more information on this free performance, call The Sounde Shoppe 760-873-5991 online at bishopcca.org.