After a thrashing in the season opener and then a week off, one might expect the Bishop Union High School varsity football team to take out its frustrations on the next opponent.
One would be right.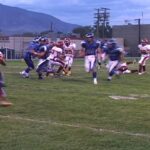 The Broncos rolled over their Eastern Sierra 11-man rival Mammoth Huskies 56-6 Friday night at John Schwab Field, a mandatory running clock taking place when the Broncos were ahead by 35 points in the fourth quarter.
The teams came together before the game to form a "44" in honor Matt Graef, the Mammoth High junior and one of the team's top players who is battling cancer, the crowd enjoying the moment
The Broncos then gave their hometown fans plenty to cheer throughout the game, especially senior quarterback Kyle Batchelder.
Batchelder looked poised and confident in what was his third start at QB on the varsity level, rushing for 207 yards and three touchdowns (including an impressive 49-yarder) on nine carries and completing 7 of 9 pases for 139 yards and three TDs.
After the season-opening 36-0 loss to state power Sierra Canyon, plenty of Broncos were able to shine against Mammoth.
Dustin Waasdorp had 49 yards rushing with two TDs on seven carries, and caught a 15-yard TD pass. Cy Scott had three receptions for 83 yards, including a 65-yard TD. Noah Stevens had 32 yards on three carries, and three pass receptions for 52 yards.
Evan Richman had 85 yards rushing on five carries, Curran Simpson had a six-yard TD reception and Roland McClean completed a pass for 17 yards and had 13 yards rushing on four carries.
Defensively, Carl Olsen had two interceptions, Cory Thomson and Waasdorp had 13 tackles, Drake Trimble had 12, David Tanksley had 11 and Roland Amisone had 10; Chris Froreich blocked a punt.
Bishop is 1-1 and will host Desert Christian of Lancaster in a non-league game Friday at John Schwab. The Knights knocked Bishop out of the CIF-SS Northeast Division playoffs in the second round in 2011 before losing in the finals. Desert Christian is 2-1 following a 19-16 win over Frazier Mountain.
Mammoth, 0-3, plays at Rosamond Friday. The Roadrunners are 1-1 after a 32-26 overtime win at Vasquez.