Jeanette Frances Bartlett
Jeanette was born June 12, 1948 in San Pedro CA. to Nick and Frances Gargas. She passed away on April 21, 2016 after a lengthy battle with rheumatoid arthritis with her beloved son Nick by her side.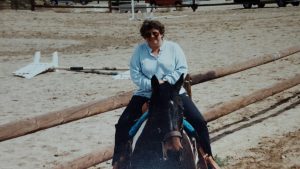 Jeanette married Gregory Bartlett, also of San Pedro on October 7, 1967. They raised three children Nick, Gina, Andrea along with two grandchildren Nicky and Anthony Salas all from Bishop.
Jeanette and Greg moved to Bishop in 1985 after Jeanette had worked 20(+) years as an administrator at Anderson, Bennell and Croft Medical Group, which serviced the merchant seaman community out of the Port of Los Angeles.
Jeanette had many interests that included owning and operating a boutique in Bishop while working full time at Northern Inyo Hospital for 23 years.
She also raised cutting horses for 30 years with her husband and son, producing more than 100 quality animals which went on to compete in the cutting and reined cow horse arenas.
Jeanette was preceded in death by her husband Greg Bartlett and her Father Nick Gargas, also her great grandson Julian Salas.
Jeanette fought hard to overcome all of life's obstacles and never let anything prevent her from accomplishing her goals and living out her dreams. She was expertly cared for by Bart White PA and Dr. Tim Crall of Sierra Park Orthopedics as well as their caring and respectful staff.
Jeanette is survived by Mother Frances Gargas, sister Patty Gargas, son Nick and daughters Gina and Andrea, grandsons Nicky and Anthony Salas, Sean Brown and the apple of her eye, youngest grandson James Doll, and finally her partner in crime, her Chihuahua Betty Marie.
Betty misses Jeanette greatly and is lost without her.
Family was Jeanette's primary focus and priority number one. She will be sorely missed and never forgotten.
Services will be held at 11:00 AM, Saturday, May 7, 2016 at Brune Mortuary, Bishop.