– Press release
The first Volunteer Work Day for the Owens Valley Growers Cooperative's Food Coop and Cafe in Independence was held Tuesday April 7th and it was a huge success.  "The turnout was great and the work accomplished was incredible" said the Coop's general manager David Woodruff.  "The volunteers worked very hard and accomplished a huge amount of the tasks that need to be done.  One of the volunteers commented it was a lot like an old fashion barn raiser and I'd have to agree that was a pretty good analogy".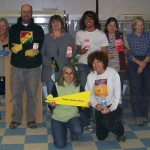 With generous support from Metabolic Studio, the USDA Local Foods Promotion Project and the Desert Mountain Research and Development Council, the Owens Valley Growers Cooperative (OVGC) is planning to open the old Mairs Market this summer as a food Coop/market/café/bakery and community center.  The Coop will feature fresh locally produced and healthy foods and value added products.  The coop will also provide a selection of basic sundry and grocery items hoping to fill a void created by the small number of retail outlets in Southern Inyo County.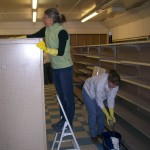 The café and bakery will feature delicious prepared meals and baked goods for dining in or taking home.  Everything from pizza, to artisan baked breads will be available along with an innovative menu with daily features.
The OVGC was founded by a group of Inyo County residents two years ago and has operated the very successful Owens Valley Certified Farmers Market in Lone Pine and Independence over that time.  The Food Coop/Café is another project designed to help build a local and sustainable food system in the Owens Valley through community education, support of local agriculture and the development of local market outlets.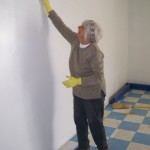 Another Volunteer work Day is scheduled for Saturday April 11th from 9am to 3pm at Mairs Market, and a few more will be scheduled over the next few weeks.  A preopening-open house is also planned for the near future.  To get more information on the Owens Valley Growers Cooperative Food Coop you can call David at (760) 920-8061.
###
Among the volunteers in the pictures Ann Capodanno, Lynn Johnson, Ben Holgate, Ursula Esser, Jose Sandoval, Mary Roper, Barbara Eskew, Noa Lish, David Woodruff and Tamara Cohn and Gayle Woodruff kneeling.  (Not pictured, Barbara Leachman, Ursula Esser, Gerrie Rodenburg,Priscilla Maxey)