Inyo County Sheriff Bill Lutze has issued a final press release to sum up the recent dig for Manson Family victims at the Barker Ranch. With no evidence of bodies found, Lutze says that there will be no further testing.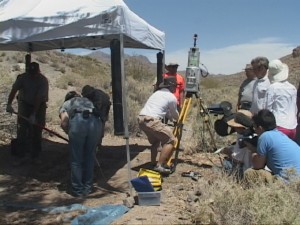 This search for additional Manson Family victims at the one time hide out of the notorious Manson Family killers started over a year ago when Mammoth Police Sergeant Paul Dostie and his grave scent dog Buster believed that they had found scent evidence of long buried graves. The dog evidence and Dosties perseverance led other scientists working on techniques to find hidden graves to become interested.
Besides the scent evidence, equipment used at the Barker included ground penetrating radar to find anomalies in the soil where a hole may have been dug, along with a magnetometer to possibly find buried metal bits. A gas chromatograph mass spectrometer was also used. This device essentially weighs scent particles to find chemical compounds given off by decomposing bodies.
Working with these Scientists and their high tech gear, Sheriff Lutze ordered an exploratory dig at the Barker in May based on a combination of inconclusive analysis of soil chemistry, geophysical data, and canine alert responses.
The only way to test the evidence was to excavate.
After the dig, Dr. Arpad Vass, with the Oakridge National Laboratory reports that many of the chemical compounds observed in the soil samples were present as the result of natural production by the indigenous plants at the site. Dr. Vass further states that the ground penetrating radar and magnetometer anomalies appear to have been the result of natural features and plant root systems.
It looks like the intense desert conditions at the Ranch between Death Valley and Panamint Valley contributed to the faulty findings. Dr. Vass says that the desert environment at Barker is uniquely complex. High temperatures were said to have affected the evidence of biological decomposition as well. Lutze reports that chemical markers for decomposition went down as the temperatures went up.
With the digging now wrapped up, Lutze says that the sites were excavated thoroughly and that the speculation that there may be bodies at the Barker left over from the Manson era has been put to rest. He says that the Inyo County Sheriffs department will not conduct further testing or excavation at the Barker Ranch.