Tuesday at the Barker Ranch in Death Valley, the Inyo Sheriffs Department plans to start digging for graves of possible Manson Family victims.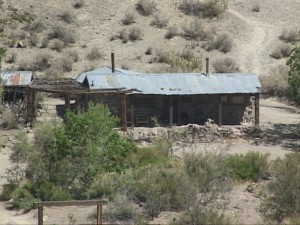 Media attention from around the world has focused on the remote ranch where Manson and his followers hid out after their murderous rampage in August of 1969 that left seven known victims. Many have suspected over the years that the gang killed far more people than the courts could prove.
Now, what started with an off duty Mammoth cop training his dog to find hidden gravesites has turned into a media frenzy. Everyone from French TV to tabloids is expected to fill local hotel rooms before they head out into the desert to press for information.
To deal with the onslaught, media access to the Barker Ranch itself will be limited during the dig. Inyo Sheriff Bill Lutze has hired a media broker to organize television, radio, and print media to pool their resources for access to the dig area.
Sierra Wave will have reporters on scene for the excavations.
This latest round of digging was sparked over a year ago when Mammoth Police Sergeant Paul Dostie took his dog Buster out to the Barker Ranch to train on historic grave scents. The Inyo Sheriff brought in additional dog teams in November and cutting edge forensic scientists were called in for further investigations in April.
Sheriff Lutze says the evidence so far is not conclusive, but that the only way to determine once and for all whether there are bodies buried at the Barker Ranch from the time of the Manson family is to proceed with limited excavation in a very few areas.
The Inyo County Sheriffs Department has come up empty at the Barker before. In 1999, deputies excavated behind the main house after former Manson Family associate named White Rabbit told them where to dig. Nothing was found.
A convoy of excavators is scheduled to leave from Lone Pine Tomorrow morning. Two sites are on the radar. Whether there are human remains at those sites that lead to more extensive excavations is yet to be seen.