Investigations into the fire that destroyed the Barker Ranch continue. In the meantime, people who have heard the news expressed sadness and disappointment that a piece of local history has gone up in smoke.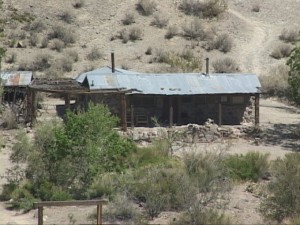 Under the supervision of the National Park Service Archeologist, crews had finished a substantial rehabilitation project on the Barker Ranch this spring. Now the next work to be done is to sift through the ashes to find out what caused the fire.
A Park Service ranger has now driven out to the Barker to gather evidence, take photos, and secure the site. Terry Baldino with Death Valley National Park reports that rangers will work with the Inyo County Sheriffs Department on the investigation. Its also possible that the Bureau of Alcohol, Tobacco and Firearms will be brought in to investigate the fire, Baldino says. So far no one has said whether the fire started by accident or was intentionally set. Arson has not been ruled out.
Even when the fire occurred is not known, though reports indicate that the ranch house was intact on Friday, and the pictures of the destroyed structure sent to us were taken on Tuesday.
What will become of the ranch house, once called home by the Manson Family, but less infamously by other families as well, is uncertain. Baldino says that the Park Archeologist is expected to head to the site next week to survey whats left to salvage or determine if the building would need to be demolished out of safety concerns.
Well preserved, yet totally open to the public, the Barker was a rare piece of living history, where people could enter and even spend the night if they chose. Baldino has already received phone calls from people saddened by the fire who want to volunteer labor and materials to rebuild the Barker.