Press release
Mammoth Lakes, CA – Artistic Director Shira Dubrovner announced the Mammoth Lakes Repertory Theatre's holiday production, Barefoot in the Park, is an entertaining holiday treat and a tribute to the comedy genius of Neil Simon who passed away earlier this year. Dubrovner directs a talented cast of locals in what will keep residents and visitors alike rolling in the proverbial aisles.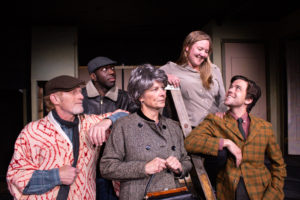 Barefoot in the Park debuted on Broadway in 1963 and was a huge success, running for 1,530 performances. It was Simon's longest-running hit, and the tenth longest-running non-musical play in Broadway history. Directed by Mike Nichols, the original cast starred Elizabeth Ashley (Corie), Robert Redford (Paul), Mildred Natwick (Mrs. Banks), and Kurt Kasznar (Victor Velasco). The play was nominated for three 1964 Tony Awards; Nichols won the award for Best Director.
"What makes this play so entertaining," stated director Dubrovner, "is Neil Simon's writing. His writing was successful, and still resonates today, because of the characters and situations he creates. He is skilled at the ability to balance comedy with insight and sentiment. And we can see ourselves in the characters he creates."
Simon himself said "I used to ask myself: What is a humorous situation? Now I ask: What is a sad situation and how can I tell it humorously?" Through finding humor in his characters' troubles, he redeems what is sad and messy about their—and by extension, our—lives.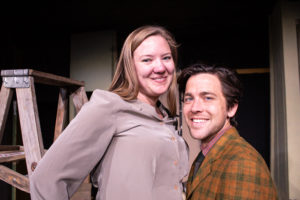 Straight-laced Paul and free-spirit Corie Bratter are newlyweds in every sense of the word. After a six-day honeymoon, they move into their tiny New York apartment and get a surprise visit from Corie's loopy, uptight mother. They decide to play matchmaker during a dinner with their crazy neighbor-in-the-attic Velasco. After the strange night out and the events that follow, they begin to wonder if maybe they are too different for one another. The honeymoon might be over, but these two young adults (and the older folks too) still have plenty to learn about themselves and the realties and compromises that come with being in a relationship.
Playing the leads are Lesley-Anne Hoxie (Exit Laughing, The Crucible) as Corie Bratter and making his MLRT acting debut, new local Tim Gorman as Paul Bratter. Joining them are Marlene Piper (Exit Laughing, SCT's August, Osage County) as Corie's mother Mrs. Banks, and Mike Dostrow (The Crucible, SCT'S Macbeth) as Victor Velasco. Rounding out the cast are Maurice Cooper (The Fantasticks, SCT'S Macbeth) as Telephone Guy and Tim Casey (The Crucible, The 25th Annual Putnam County Spelling Bee) as Delivery Guy.
Please join Mammoth Lakes Repertory Theatre this holiday season Dec. 20 – Jan. 6, 2019 Thurs – Sat. @ 7pm   Sun. @ 4pm for an entertaining evening of love and laughter.
"A BUBBLING, RIB-TICKLING COMEDY." – The New York Times
​"Critic weeps joyfully…I don't think anybody stopped laughing while the curtain was up last evening." – New York Daily News
For more information and/or tickets visit MammothLakesRepertoryTheatre.org.
​FACT SHEET:
WHO:                 Mammoth Lakes Repertory Theatre
WHAT: BAREFOOT IN THE PARK by Neil Simon
WHEN: Thursday, Dec. 20 – Jan. 6; Thu-Sat at 7:00 PM; Sun at 4:00 PM
WHERE:             Edison Theatre, 100 College Parkway, Mammoth Lakes, CA 93546
COST:                 Tickets online: $20/$18/$10; Tickets at the door $22 No discounts
RESERVE TICKETS: www.MammothLakesRepertoryTheatre.org
The Mammoth Lakes Foundation offers both free education (books and tuition) to any Mono County resident and/or high school graduate who pursues an AA degree at Cerro Coso Community College and year-round theatre programming at Edison Theatre. For more information or to make a tax-deductible donation to the theatre or to the Foundation, please contact Shira Dubrovner at 760.934.6592, the Foundation office at 760.934.3781 or visit MammothLakesFoundation.org.
Our nonprofit work is only possible through your generosity.