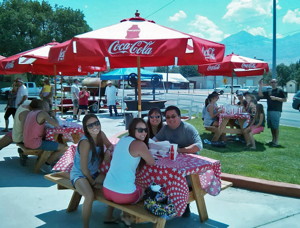 New Copper Top BBQ Open in Big Pine
Restaurant review by Charles James
Spare rib anyone? – Adam in the Garden of Eden
Delicious barbecue has likely been around ever since humankind discovered fire, but it was the guy or gal that came up with the barbeque sauce that should most likely be credited with barbecue's popularity.
There is a new fast food restaurant in Big Pine called the Copper Top BBQ.  Located at the north end of town, it is hard to miss with the bright red and white Coca Cola umbrellas and large copper topped grill. Even more difficult to miss would be the smell of meat cooking on the large grills. Mouthwatering to say the least, but more important, very tasty!
Another good indication of just how good the food is served at a restaurant is by the line waiting to order or already sitting down to eat. According to Matt Otten, the Copper Top BBQ's manager and youngest son of the owner Hank Otten, there are some days that it is so busy they run out of food no matter how well they planned. Believe or not, a restaurant running out of food, especially this establishment, is a sign that the food is really that good!
Hank Otten, the owner, grew up on dairy farm in Southern California before his parents moved their dairy to Bakersfield. Prior to moving to Big Pine, he lived in Bakersfield working as the government sales representative for John Deere Company for 17 years. "It is very likely,: he says, If you see any John Deere equipment on the highways, I'm probably the guy that sold it!" humor.
According to Otten, he chose to open a new business in Big Pine because, "I fell in love with the Eastern Sierra when I was fifteen while camping here with a friend. And ever since then I have always wanted to live here." Both of his sons, Adam and Matt, also strongly encouraged him to make the move and open the restaurant.
It is obvious that Hank Otten loves cooking barbecue and according to his son Matt, he and his friends were treated to some delicious meals growing up as his dad "fired up the Barbie" in the back yard. As Matt explains it, "Barbecue is my Dad's love and passion. He has worked it to perfection. That the elder Otten truly loves cooking can be seen in the big smile that greets diners when they stop in to eat.
The great reviews on the new restaurant from local residents is also evident in the reviews found online at travel review websites such as Google maps, Facebook, Trip Advisor, and others that give the Copper Top BBQ 5-star ratings on the food and service, the location with its view of the mountains, and the friendliness of this family-run business.
Besides his love of the Eastern Sierra, Otten was strongly influenced by the encouragement of his sons to open the new eatery. His oldest son Adam is a local California Highway Patrol officer assigned to the Bishop Area Office. His younger son Matt, who had been living and teaching English for a year in Japan before returning to California, offered to manage the restaurant. It didn't take much more convincing for Otten to decide to move to an area that he has long loved, work doing something that he has a genuine love and passion doing, having an opportunity to work with his younger son, and being close to his other son, daughter-in-law, and grandchildren.
Matt Otten says of his dad, "His passion for cooking explains why the food is so great. He has put years into perfecting his skills on the grill." The late-comedian George Burns once said, "Too bad all the people who know how to run the country are busy driving cabs and barbecuing." To be honest, diners should be grateful that Hank Otten is neither driving a cab nor running the country, otherwise people would be missing out on some seriously good barbecue!
"We are in this for the long haul," says Matt, "We are having a great time doing this together. My dad and I really do care about what we are doing. It has to be the 'best' possible; nothing less will do."
"Nothing less will do", along with their slogan "Food makes friends" is why all the food served at the Copper Top BBQ is made fresh daily starting with Hank Otten firing up the outdoor grills at 6:15 a.m. every morning and trying to be out of the kitchen by 8:00 a.m. so that the kitchen crew can prepare the fresh side dishes of Grandma's potato salad, Old Fashioned Mac and Cheese, and Gene's Green Chili Black Beans. Thinking ahead to the winter months, the Copper Top BBQ plans to offer warm cornbread and hot chili to local residents and travelers coming up to ski and snowboard in Mammoth Lakes.
Future plans include having a dedicated website, home delivery, catering, and a special lunch menu and pricing for local students.
The Copper Top BBQ is open from 11:00a.m. to 7:00 p.m., Wednesday through Sunday. There is onsite, outdoor seating and takeout. Call (760) 970-5577 for takeout or more information.