Barbara Lee Crosby left us on Monday September 24 2018, at the age of 91. We will all miss her positive attitude and big bright smile.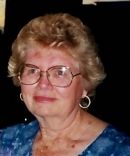 She was born in Los Angeles on June 6, 1927 and raised in the Owens Valley by her parents Bob and Inella Cheney. While attending Lone Pine High she met her lifelong friend Juanita Ellis.
After attending Lone Pine High the family moved to Round Valley were she graduated from Bishop High in 1945. Barbara went to work at Paradise Camp where she fell in love with the owners son Gene R Crosby. She and Gene worked at Paradise with the owners Gene Sr and Gladys until they got married in December, 1947. They were married in the Bishop Catholic Church by Father Crowley. Gene and Barbara were the proud parents of George and Karen Crosby.
Gene and Barbara founded and ran Crosby Furnishings on Main Street in Bishop for many years. Gene left the store to become the General Manager at Eastern Sierra Ford. After Gene's passing in 1981, Barbara remained active in Bishop volunteering at the Laws Museum, as member of the Red Hat Society, and with the BPOE Lady Bills for many years. She was know for her long morning walks around town well into her 80s, often with her good friends like Jim Ellis.
Barbara loved to cook, hosting many parties with her large family and many friends. St Patrick's Day corned beef, Easter lamb from the Conway Ranch, and Christmas Dinner were all fantastic. She won many awards at the Tri-County Fair for her luscious pies.
She is survived by Karen and many nieces and nephews.
Services will be held on Saturday October 13, 2018 at 11:00 at the Our Lady of Perpetual Help Catholic Church on Home Street in Bishop.