After failing to self surrender Friday as scheduled, family members report that Jo Ann Barba turned herself in to authorities on Monday. Family members say that Barba maintains her innocence.
The most recent court order stated that Barba was required to surrender on Friday, September 18th to start her 33 month sentence at the Federal Correctional Complex in Victorville.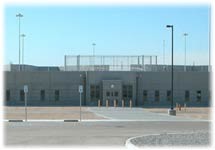 She had not self surrendered at that time, but did so on Monday, according to relatives.
The case against the Bishop woman convicted of embezzling $760,000 from the Bishop branch of the Washington Mutual Bank has been a hot button item.
Over the past two years, residents have called the station at every court date and scheduled court appearance. When JoAnn Barba turned herself in to authorities Monday, the story reached its final chapter for our listeners, but its not over for her family.
A relative we spoke to reports that Barba maintains her innocence and is going to jail for something that she did not do. Citing problems with Barbas lawyer, family members stated that Barba never gave her lawyer permission to act for her and did not understand that the lawyer could plead guilty for her.
A Department of Justice spokesperson reports that Barba had signed the guilty plea and had been sentenced before the judge.