Its been over two months since the late night brawl at Rustys Bar in Bishop that involved two Mammoth Lakes Police Officers, and so far the Inyo District Attorneys Office has not filed charges against anyone in this case.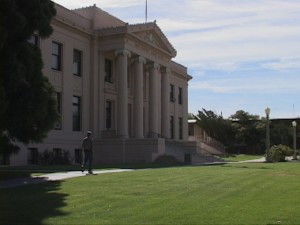 On the night of May 21, Bishop Police responded to reports of a fight that had moved from inside the bar and then outside. No one was arrested, but with two Mammoth Police Officers involved in the incident, speculation has been in high gear ever since.
The Inyo District Attorneys Office is still working on the investigation into what exactly happened that night in the alleyway behind the popular Bishop bar. Assistant District Attorney Mark Johnson reports that staff has done an extensive investigation, into the incident, but says that the investigation is not quite complete. One key witness still needs to be interviewed, Johnson reports, and that witness is reportedly out of the area on vacation. We are very close, Johnson says.
In the meantime, one of the officers involved in this incident has returned to work. Immediately following the brawl, Mammoth Police Chief Randy Schienle placed two officers on administrative leave and set the gears in motion for an internal investigation to be handled by the Mono District Attorneys Office. Chief Schienle did not go into details on that internal investigation, but he did confirm that Officer Dan Casabian is back at work with the MLPD, while Officer Eric Hugelman remains on administrative leave.
Johnson did not say whether the Inyo DAs investigation would lead to charges against either of the two police officers or anyone else involved for that matter. He did add that the DAs office is treating this case like any other.