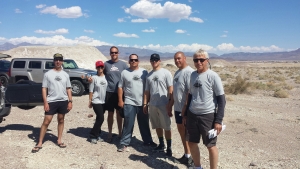 30th Baker to Vegas Challenge Cup Relay  (Press Release – Inyo Sheriff)
This year marked the 30 year celebration of the world-famous Baker to Vegas Challenge Cup Relay. Since 1999, local law enforcement (Inyo/Mono counties) have come together to form a team to participate in the annual event. "Team Eastern Sierra" was organized and led by Inyo County Sheriff's Lieutenant Eric Pritchard, and consisted of 20 runners, 4 additional alternate runners, and 13 support personnel.  The team included men and women from the Inyo County Sheriff's Office, Mammoth Lakes Police Department, California Highway Patrol, Bishop Police Department, Mono County Sheriff's Office, Bureau of Land Management, California Department of Corrections and Rehab, Ridgecrest Police Department, and California City Police Department.
The starting point for the run is Baker, CA; runners traverse the desert and mountains non-stop for 120 miles, with an ending point of Las Vegas, NV.  There are 20 legs, from 4.0 miles to 10.7 miles, with varying elevation changes.  The relay began late in the morning of March 22nd, and ended early the morning of March 23rd.  As per the desert climate during the spring months, the weather can change from one extreme to another depending on the time of day.  Runners describe Baker to Vegas as long and challenging, but nonetheless a rewarding experience.
Although the race is not a memorial run, many teams run in memory those who paid the ultimate price while in uniform. Team Eastern Sierra continues to honor the memory of Paul Pino (CHP), Richard Perkins (Bishop P.D.), and Wayne Geiger (U.S. Army, son of Randy and Kim Geiger of the Inyo County Sheriff's Office).
During this year's 30th anniversary, Team Eastern Sierra bested last year's run time by nearly 30 minutes, posting an actual run time of 17:51:51.  "Through dedication and hard work, the team came together for a safe and successful event," stated Inyo County Sheriff's Lieutenant Eric Pritchard.  Pritchard went on to say that, "without the support from our community and the hard work of team volunteers, this event would not be possible. Team Eastern Sierra is grateful for the support the community has shown over the years and for the dedication of the men and women of our law enforcement community."
The Relay was founded by Los Angeles Police Officers Chuck Foote, and Larry Moore. Baker to Vegas is now considered the largest law enforcement event of its kind in the world with teams participating from Queensland Australia, South Wales England, Calgary Canada, and Berlin Germany as well as teams throughout the United States.  The original ideals of the race continue: teamwork, camaraderie, physical fitness and competition.